Wednesday, April 13, 2005
Apple Japan CEO told that it will launch iTunes Music Store in Japan by the end of this year. Up until now, music download market in Japan has been struggling due to record label driven DRM. It restrict type of data format and control data copy to another devices. Apple Japan expects to sell 1 million iPod before it launches iTunes Music Store. Major record label such as abex already expressed that it is considering the Internet as its major distribution channel in near future.

Monday, April 11, 2005
Nathan Weinberg reported that how comsumer generated media, mainly blog, is playig a crtical role in market trend and consumer's buying decision.
When users search for companies, 18% of the results are corporate info and 12% are media coverage, while consumer generated content makes up 26% of the results. Companies spend so much money making sure the media likes them, but it also needs to work to appeal to online pundits, from bloggers to consumer reviewers.
According to Online Game Forum of Japan, there are 211 active online games hosted by 68 companies in Japan. (In its definition, 'online-games' means games that are played on either PCs or game machines, such as PS2, by multiple players via the Internet.)
There are 18,062,262 registered players and 1,358,814 players who plays free beta games, so the total number of players is 19,421,076!!! Among them, 14% of players (2,657,412) actually register for pay services. This figure is about 3% of total Internet users in Japan (77,300,000).
In terms of $$$, total revenue from package or download is about US$200M (21,193,000,000JPY) and revenue from game operation, such as monthly subscription fee and item buying, is about US$350M (36,701,400,000 JPY).

I am not sure if this market information will be able to justify GungHo Online Entertainment, an online-game operator's, stock price at 22,600,000 JPY (about US$200,000!!!) as of today. Its market value is about US$35B.

Sunday, April 10, 2005
Cherry blossom
Cherry blossom
Originally uploaded by yoyodain.
I went to Chidorigafuchi in Tokyo for to view beautiful cherry blossom!!!
Friday, April 08, 2005
CoolText retro web graphics
cooltext3645741
Originally uploaded by yoyodain.
I found
CoolText
at
Lifehacker blog
and created a logo....
Wednesday, April 06, 2005
Haloscan
commenting and trackback have been added to this blog.
Tuesday, April 05, 2005
Cherry Blossom Forecast 2005
Japan-guide.com has a nice information on
cherry blossom spots in Japan.
According to the Japan Meteorological Agency, this weekend is going to be the best timing to view cherry blossoms this year. Hopefully I can post some picutures that I take.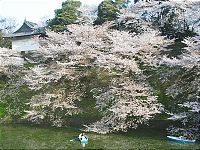 Chidorigafuchi, Tokyo (www.japan-guide.com)
Friday, April 01, 2005
Hay fever @Japan
The hay fever season is in full swing in Japan, and experts predict that pollen levels this spring will be the highest on record..... I have an allergy to pollen of those cypress and cedar. I'm having a runny nose and very itchy eyes these days, so I put one of those
pollin-protect face mask
when I go outside, and always carry a box of Kleenex in the office. So it is no joke when
Japan Today reported that Ronald McDonald has never ever had hay fever and made him say "... so I can hardly imagine what it must be like for sufferers. All I can say to those people is please be patient during this season. It will soon pass."
mnk::drum|head::video
mnk::drum|head::video
Murat n Konar demonstrate couple of his interection design works. drum|head is one of them and very very funny :)
Wednesday, March 30, 2005
Koizumi wants ministers to shed ties, jackets for summer